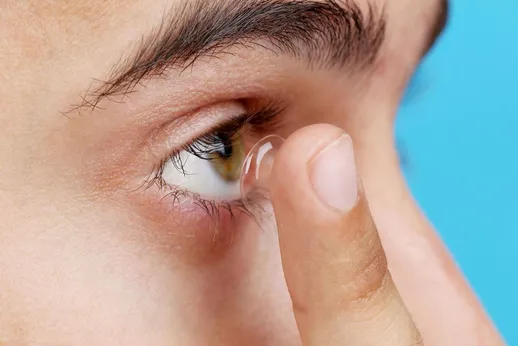 In the United States alone there are more than 30 million people who wear contact lenses. Many of these people were once told that contact lenses were not an option for them because they had a condition called dry eye, which meant that their eyes were not making enough quality tears. In many cases, traditional contact lenses can aggravate this condition, and send people reaching for their glasses instead. But things have changed. Not only is wearing contacts possible but there are also contact lenses for dry eyes that can make eyes feel more comfortable and result in fewer symptoms.
What Causes Dry Eye Syndrome?
Dry Eye Syndrome syndrome can be caused by many things, including hormone changes during menopause, medications, allergies, damage to the tear glands or the skin around the eyes, or other health conditions, including various auto-immune conditions. Just wearing regular contact lenses for prolonged periods can also contribute to the development of dry eye syndrome. If you notice excessive itchiness or find yourself feeling like there is something in your eye, it is time to talk to your optometrist about your eye care and what you can do to alleviate these symptoms.
Finding Contact Lenses For Dry Eyes
In many cases, one of the best things you can do for your eye care is to find contact lenses for dry eyes. Those with dry eyes should choose contacts that are gas permeable. Soft lenses that include hydrogel contain water and can help maintain moisture in the eye. Disposable soft contact lenses are a good option because they provide a fresh pair each day, which helps keep protein deposits from building in the eye.
Another option is silicone-based hydrogel lenses, which inhibit water evaporation. The brand Proclear has an FDA-approved line of contact lenses that contain phosphorylcholine which attracts water and leaves eyes feeling moist.
For some, wearing contact lenses with a lower amount of water means fewer dry eye symptoms. While higher water content lenses can feel good at first, they can dry out faster than lower water varieties. Larger contacts, called scleral lenses, cover part of the white part of the eye and allow more oxygen to the eye's surface, which may lessen symptoms.
Eye Care in Holmes, Springfield, and Chadds Ford
If you wear contact lenses or wish to, and you are having trouble with dry eye symptoms, it is important to discuss your options with your eye doctor. You may have to try different types to find the ones that work best with your eyes. At Springfield Opticians, we strive to make sure that all patients receive top eye care to see their best. To learn more, or to schedule an appointment, contact us at Springfield Opticians in Chadds Ford, PA at (610) 558-3142, Holmes, PA at (610) 461-7353, or Springfield, PA at (610) 543-9275.